Super Safari
the power of the wild can make you rich
Super Safari Slot Review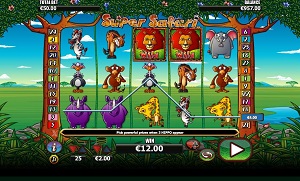 Super Safari slot is a fantastic online video-slot game that has just about everything an online slots player could ask for. This game invites players to enjoy its spectacular African Super Safari slot theme. Which is presented in a very creative way that helps the game to stand out.
This Nextgen slot is different from most of the other online slots games in the industry. The cartoon look of the game is the first thing players will notice, but there are many excellent features and benefits beyond the game's appearance. Dedicated to the great African continent and the amazing wildlife Super Safari is certainly a videoslot you need to try.
25 lines to make winning combinations
betting range from 0.01 up to 50.00 per spin
highest pay-out is 25.000
Super Safari Bonus can pay out up to 150 times
We have heard that some players where actually a bit surprised by the graphics as they might appear a bit basic. Some players even referred to "childish" but let us assure you that this game is packed with money and offers an exciting gameplay.
There is hard cash to be won, sizzling game effects to experienced and a whopping 25.000.000 (25K) to be won. So there is nothing even remotely close to childish in the Super Safari Slot.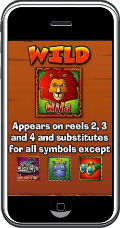 Compatible
Via Wifi or Mobile plan
Suitable for all devices
All browsers supported
Flash and HTML5
Super Safari slot packed with special features and wins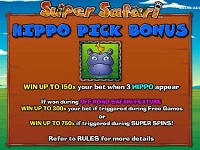 The wild symbol in Super Safari slot is the lion with the smug look on his face. He can show up on the second, third and fourth reels to replace other symbols and create more winning combinations. There is another helpful feature to assist the players with more prizes and it is the Hippo pick me bonus feature.
Players can get as much as 150x their bet thanks to this feature.  Super Safari also has an exciting re-spin feature that adds more enjoyment to the game, as well as more chances for wins.This feature is activated when the player gets three of the lion symbols on the screen. When this happens, the second, third or fourth reel will turn into an expanded wild and the player will be given three re-spins.
Players can also enjoy free spins on this game. Getting at least three of the scatter symbols. The wins will be doubled in the free spins feature and this helps it to be an even more profitable one for the players to enjoy. The feature can be retriggered and at this point binoculars are added to the reels and getting them can lead to super free spins. The super free spins can offer players a generous 5x multiplier and this means really nice sized wins.
Design and lay-out of the slot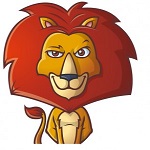 Super Safari is a 5 reel online slots game with 25 paylines that's powered by NextGen software. As soon as the game pulls up on the players screen, they will be amazed by just how colorful it is and what a great look it has to offer. The reels on this game are free-floating in front of the background in a way that gives the whole game a nice uniform look where there isn't a lot of extra clutter like there is in some of the other slots.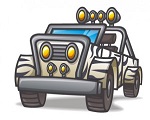 There's an abundance of entertaining and adorable animals including rhinos, elephants, crocodiles, giraffes, monkeys, ostriches, zebras, meerkats and others. The paylines are numbered along both sides of the reels with very bright squares. Vines hanging from trees appear to be falling down in a way that naturally creates the dividers for the reels. The gaming buttons are all lined up along the bottom portion of the screen and the total bet and balance numbers are located on the top portion of the gaming screen.
Denomination and Payouts Super Safari
This slots game is a very affordable one for those on a tight gaming budget, but it also allows players to bet more so it works out well for the high rollers and anyone in between as well. There are 25 paylines and players can activate the number of them that they want. The coin values of the Super Safari stakes include 0.01 up to 2.00. The minimum bet a player can make per spin is 0.01 and the maximum bet per spin is 50.00.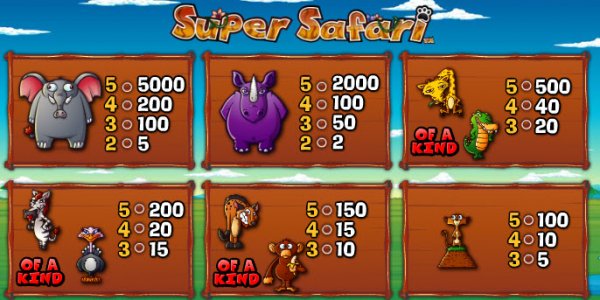 Players will want to keep a close eye on that friendly looking elephant. Not only is it an adorable looking symbol, but it is also the regular symbol that pays out the most. Getting five of the elephant symbols can give the player a generous payout that's good for 5,000.
Software
Super Safari is powered by NextGen software. NextGen has been offering online casino players stable and exciting casino games since it first made its appearance back in 1999 making it one of the more experienced casino software providers out there. The software provider is known for offering games with entertaining themes and creative special features.
Best Features
Powered by NextGen software
Fantastic design with a Safari theme
Exciting symbols that have plenty of personality
Player friendly gaming environment
Financial flexibility
Potential for large payouts
High quality game
Super Safari Slot Summery
The Super Safari online slots game is one that captures the attention and interest of most players right away. This is due to its fun, bright and lively look and the symbols that come together to give it a lot of personality. No surprise this slot may it to our African Themed Games category.

Enjoying the funny wild characters of the Super Safari at it's best at Black Diamond. Set the max bet on all 25 paying lines and you might be the one earning 50.000 in prize money. Not to bad for a day playing with wild animals not?
Dare to challenge the King of all animals? Or rather want to see a spinning an elephant on your mobile? On this funny themed slot you can do it all.
nice selection of slots (incl. jackpots)
Live casino tables for Roulette, Blackjack and Baccarat
24/7 support team ready to assist
interesting promotions on a regular base.
Your account is free. Get up to $250 + 50 Free Spins bonus!


Being confronted with animals in the wild might not be to good unless you are lucky. However when you encounter them online you definitely want Lady Luck to be on your side. Multipliers, Wild and Scatters they all help you to get in reach of that jackpot of 50K!
Giraffe's, Rhinoceros, Monkey's, Zebra's, Crocodiles, you name it and they pass by in the Super Safari Slot. Get your piece of the fun today and make sure to bring home some of that money!
instant casino for all games!
great portfolio of true casino slot and games
unique selection of table games available
don't forget to say Hi to the live dealers!
Your account is free. Get up to $100 bonus + 10 Free Spin!

About Feeling Lucky
Feeling Lucky is a life style. When the Lion makes sure to you who is the King of the Savannah, that's the moment you feel lucky. Or when you are joining a safari and in the early hours you see a herd of Elephants showing at the horizon'Those are the moments we humans realize that the mighty ones in this world are living in the wild.
But to be able to afford going a nice all inclusive safari in on of Africa's countries you need some money. Are you going to win your trip on the Super Safari slot?! Today is your day,.. GET THE LUCK!
Safari Facts
A Safari can be best enjoyed in dedicated wildlife parks in Tanzania, Kenya, Uganda, South Africa, Zambia, Botswana and Gabon.
General rule of thumb is that you can plan a Safari any month of the year. But bear in mind every country and month has it's specifics like season, animals and price.
The so called "Green Season" is usually a good time to plan a safari.  In countries like Kenya, Tanzania, Uganda and Rwanda the Green Season is between December and May. Whilst for Botswana, South Africa, Namibia, Zambia and Zimbabwe this special season starts at mi November and last till April.